Professional teeth cleanings and comprehensive dental exams are excellent preventive services that every patient should utilize. Not only do they help patients maintain positive oral health, they also provide patients with an opportunity to ask any questions or bring up any concerns they have with a dental professional who cares about their dental health needs. If you would like to add on a fluoride treatment
or another preventive dental service to your appointment, just let us know, and we will be happy to assist!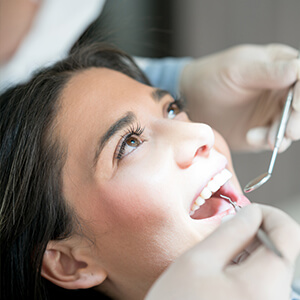 How often should I get a dental cleaning and exam?
While most patients only need to visit our practice for routine preventive care twice per year, patients who have periodontal disease or are at a higher risk for developing periodontal disease may be advised to schedule additional appointments for dental deep cleanings. Our team can help you decide how many visits you should ideally schedule during your first appointment.
What are the benefits of a professional teeth cleaning?
Teeth cleanings are beneficial even for patients who always brush and floss their teeth twice a day because dental hygienists are expertly trained to remove plaque and tartar from areas that are difficult for patients to thoroughly clean with a toothbrush. Frequent and sufficient plaque removal really helps prevent cavities and gum disease from developing.
Will a dental cleaning whiten my teeth?
Dental cleanings can lift some of the stains off the front of the teeth, but they do not make the teeth noticeably whiter. If you are interested in whitening your teeth, ask our team about our professional teeth whitening services. We offer custom take-home kits that allow patients to achieve whiter, brighter smiles from the comfort of home.
Do teeth cleanings hurt?
Routine cleanings are not supposed to hurt. If you have very sensitive teeth and gums, let your hygienist know, and they will do their best to clean, scrape, and floss your teeth as gently as possible. If you always experience anxiety at the dentist, even for routine dental cleanings and exams, we offer nitrous oxide sedation that can help you relax during your treatments.