Should you or someone in your household develop tooth decay in one or more teeth, our team can gently remove the decay and place durable, tooth-colored dental fillings. Composite dental fillings blend in seamlessly with the surrounding teeth and can last anywhere from 5 to 10 years or even longer. To learn more or schedule a consultation with our office, we recommend giving us a call or sending a message through our virtual contact form, and we will be in touch with you shortly!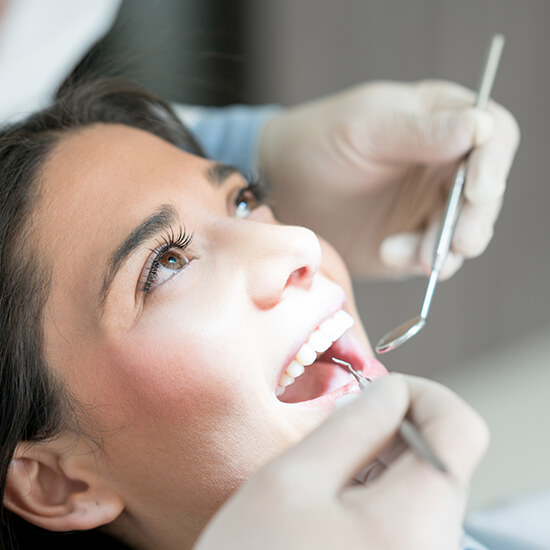 How will I know if I need a dental filling?
If you currently have a filling that seems loose or has fallen out completely, please give our office a call so we can get you in for an appointment. If one of your teeth does not have a filling, but you believe that you may have a cavity, we recommend scheduling a visit with our team so that we can examine the tooth and provide a diagnosis and treatment plan. Cavities can come with tooth pain, sensitivity, brown or black spots on the teeth, or holes in the teeth. However, many patients do not have symptoms at all, which is why it's important to visit our office for regular dental exams.
Do dental fillings hurt?
Before your tooth is prepped and your filling is placed, we will use a local anesthetic to completely numb your teeth and gums. This prevents patients from feeling pain, but you will likely still feel some pressure on your tooth during your treatment. If you are anxious about your visit, our office provides nitrous oxide sedation, which can help to relieve any anxiety that you may be feeling. During restorative treatments, we also encourage patients to request a pillow and blanket and put on their favorite show so that their appointment flies by!
How can I prevent cavities?
It is estimated that over 90% of Americans will have at least one cavity in their lifetime, which means it is not uncommon for patients to develop tooth decay, even when they have excellent oral hygiene. However, we still recommend that patients brush and floss regularly, visit our office for routine care at least twice per year, and watch their sugar intake. Dental sealants and regular fluoride treatments can also help patients with cavity-prone teeth shield their smiles from harmful bacteria and strengthen their tooth enamel.
Ready to schedule your next appointment? We're ready to see you!