With July just around the corner, summer time and the heat that it brings is in full swing. Now is the time to go outside and enjoy the outdoors while the sun is shining and the sky is blue. As the summer progresses, the heat will continue to rise, and we want to make sure you are safe while you enjoy the sunshine.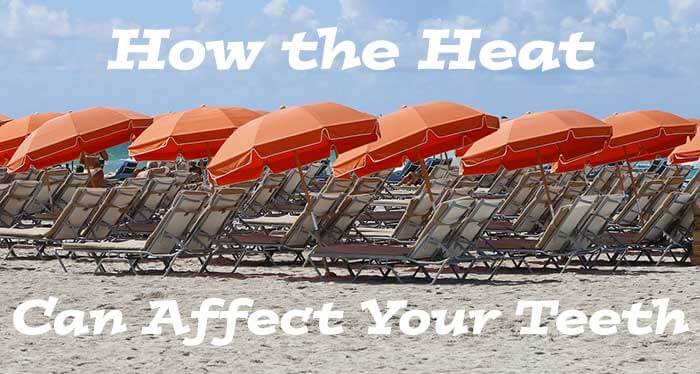 Heat stroke is a condition that can occur when one is exposed to high temperatures for a sustained period of time. The symptoms brought on by heat stroke are headaches, fatigue, dizziness, nausea, and fainting. This condition is serious and should not be taken lightly, but did you know that extreme heat could also affect your teeth?
One of the other symptoms of heat stroke is dehydration, which will reduce the amount of saliva in your mouth, which is known as dry mouth. Dry mouth can be caused by heat exhaustion and even some medications. Whatever the cause, dry mouth can result in issues related to your oral health. These issues are:
Mouth sores (or mucositis)
Gum disease
Cavities
Weakened teeth
Bad breath
Saliva naturally fights bacteria by preventing it from multiplying and also helps to clean your teeth, which keeps your mouth fresher. When you are dehydrated and the saliva in your mouth is reduced, your gums and teeth are more likely to get infected.
Ways to prevent heat stroke and heat exhaustion
If you know that you will be outside for a while, there are steps you can take to help prevent the heat from getting to you. Here are some tips to help prevent heat stroke:
Drink lots of water to stay hydrated!
Use a sunscreen of SPF 50 or higher
If possible, stay underneath some shade
Wear loose, light colored clothing and a hat
If you have experienced a heat stroke recently, it's probably a good idea to see Dr. Gallagher to make sure your oral health hasn't been affected. Even if you don't feel any pain, Dr. Gallagher will perform an examination that can find issues before they become more serious, and painful later!