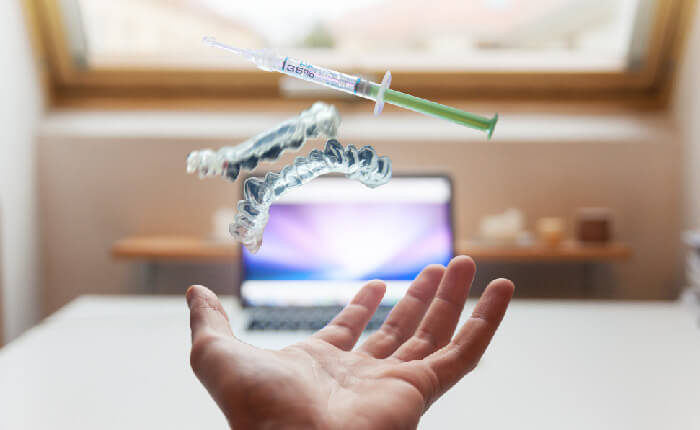 If you've ever dreamed of a whiter smile, you've probably wondered how the whitening process works. When drugstore whitening strips don't give you the results you need, check out the more effective whitening options that Dr. Gallagher offers at Overland Park Family Dental.
In-Office Whitening
Step up your whitening game with our in-office whitening treatments. We use a process called KöR® Whitening Deep Bleaching, one of the most effective professional whitening systems available. It can remove tough stains that whitening strips can't, from tobacco stains to fluorosis to the stains you get from the normal wear and tear of your teeth. KöR Whitening removes these stains by restoring your teeth's ability to absorb oxygen, dissolving stain molecules that are set deep within your teeth to give you a Hollywood smile.
If we decide that KöR Whitening is right for you, you'll come in for a cleaning. Then Dr. Gallagher will make a mold of your teeth for the two-week take-home kit. After those two weeks, you'll come back into the office, and we'll apply Dual Activated Tri-Barrel Hydremide Peroxide to your teeth. We'll follow up with monthly maintenance to ensure your whitening results are permanent.
Though the KöR Whitening treatment may seem intense, this deep bleaching usually causes less sensitivity than other methods. This is because we create the special molds just for you to allow the whitening gel to only touch your teeth, not your gums, tongue, or mouth. In just two weeks you'll have a brighter, whiter smile!
Take-Home Kits
Though they tend to take a little longer and require daily dedication, take-home whitening kits are incredibly effective whitening options. Dr. Gallagher offers different types of kits, so you can tailor your whitening treatment to your level of staining. The take-home kits are great for patients who want the flexibility of applying the whitening agent in the comfort of their own home.
Veneers
If your smile needs more than just whitening, ask Dr. Gallagher about veneers. We can correct chips, gaps, overlaps, and discolored teeth with veneers, thin ceramic casings that Dr. Gallagher makes by hand especially for your teeth. They look and feel completely natural and are incredibly long lasting. In just two visits, Dr. Gallagher will prepare your teeth, take measurements for the ceramic casings, and place and shape your veneers. It's as easy as that!
At Overland Park Family Dental, we offer a variety of whitening options, so you can have the smile of your dreams. Make an appointment with us today to talk about what is best for you and your teeth!