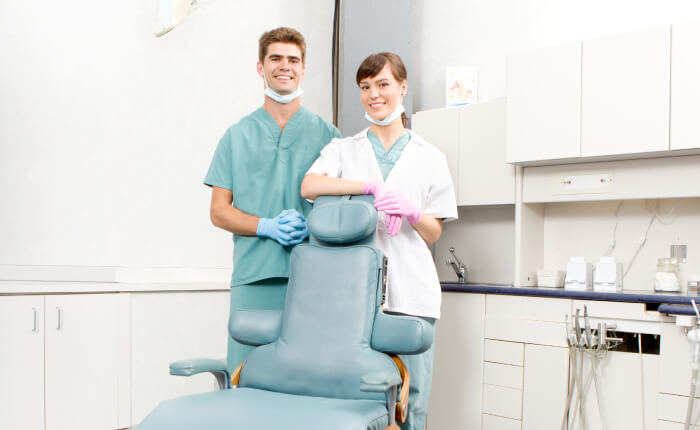 As your neighborhood dentist, we never stop learning the newest and best techniques to care for your teeth. We constantly attend training on new technology, new techniques, and advances in the dental field. It is incredibly important that we are experts because our patients trust us with the health of their teeth.
In addition, we work hard to cultivate relationships with other specialists in the area because we want our patients to have the finest care. You've probably heard of a periodontist, and you may have even been referred to one at some point. For many patients, their oral care requires co-management between their dentist and their periodontist. But what exactly does a periodontist do?
What Is a Periodontist?
A periodontist specializes in the prevention, diagnosis, and treatment of periodontal disease, as well as the placement of dental implants. Additionally, they're experts in treating oral inflammation. There are a required three additional years of education after dental school to become a periodontist.
Why Do I Need to See a Periodontist?
For our patients with severe periodontitis, early onset of periodontal disease, unresolved inflammation, or other signs of trouble, Dr. Gallagher will often refer them to a periodontist. The periodontist will focus on the treatment of your gums, while Dr. Gallagher will focus on keeping your teeth healthy. Together, the two experts form a dream team dedicated to preserving your oral health.
What Can I Expect at the Periodontist?
During your first visit to the periodontist, they will review your medical and dental history. Then, they'll examine your gums. They pay special attention to any gum line recession and the way your teeth fit together when biting. Additionally, they will measure your periodontal pockets (the depth of the space between your tooth and your gum). They may also take X-rays to check out the health of your jaw bone below the gum line.
As with many other conditions, the early detection and treatment of periodontitis can help preserve the health of your teeth and gums. If you notice any unusual or painful changes with your gums, call our office immediately. Additionally, be sure to practice good preventive care habits such as brushing twice daily, flossing, and making regular visits to our office. To schedule your next appointment, give us a call today at (913) 326-1952.